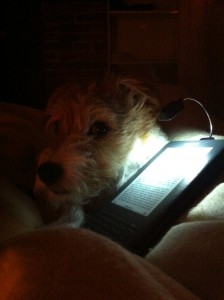 When it comes to reading in bed at night, I'd typically rest a Petzl LED headlamp on my chest and aim it at my Kindle or book to provide excellent illumination for comfortable reading in the dark. Designed mainly for cycling and other outdoor in-the-dark uses, the Petzl served me well as a faithful bedtime companion for many years.
However I've recently kicked the Petzl out of my bed in favor of another reading light: The Verso Clip-On Reading Light. It's small and lightweight, has a single bright LED light, and its padded clip attaches easily and firmly to my Kindle 3′s leather case.
Some users have complained there's only one brightness setting on/off), while other book lights offer two settings. The single setting works fine for me.
Two small quibbles:
Although light spreads a nice and even swath of light on the Kindle screen without creating a glaring "hotspot" in the display itself, the "amazonkindle" logo does reflect some glare that's a bit distracting to the point of I find myself holding my Kindle with my thumb over the logo to block the glare.
Amazon sells the light in white, red or turquoise ($19.99), however I bought the black model ($14.99) to match my graphite Kindle 3 at a nearby Borders store rather than purchase the light from Amazon.
Neither gripe has anything to do with the light itself, which makes it easy for me to recommend the Verso Clip-On Reading Light for bedtime book reading of every shape and size and format (including good ol' fashioned real books, too).
Amazon.com: Verso Clip-On Reading Light for Kindle.