Tag Archive for 'PSP'
Published
on
Wed, Sep 19, 2007, 9:02 pm
.
0

Comments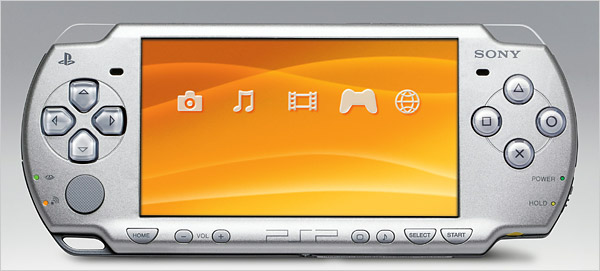 The New York Times: More Memory and Quicker Loading in a Thinner and Lighter PlayStation Portable
By Joe Hutsko
Published
on
Thu, Jun 8, 2006, 11:53 pm
.
0

Comments
First impressions of the Nintendo DS Lite, after the initial disarming experience of opening the (self-contained-disco-ball-in-a-box) in which it arrived.
The DS Lite is:
wonderfully brighter than the original DS
pleasantly smaller than the original DS
has a glossy white finish that looks and feels like an iBook
fixes the original's too-easy-to-shut-off-by-accident power button with a slider switch like the PSPs
moves the original's built-in mic front and center, below the top screen
has a pop-out dummy card to protect the lower, front GBA cart slot
is so much smaller than the original, GBA carts plugged in stick out like an ugly tongue
and lastly, requires me, when playing the excellent shooter Metroid Prime: Hunters, to poise my left pinky in a way that's similar to how I sometimes oh-so-naturally hold a martini glass, and is necessary here to balance the DS Lite in order to shoot
As for whether I'll suffer the hand and wrist numbing affliction I get when I play my PSP (pinkies thankfully curled under in a manly fashion), I haven't played the DS Lite enough yet to say.